Wood screw splitter for Japanese compact tractors, Komondor RH-400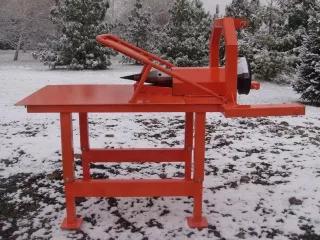 Wood screw splitter for Japanese compact tractors, Komondor RH-400
693,42 EUR
-22%
540,00 EUR
(425,20 EUR + VAT)
Duration of the sale:

2023.10.30 - 2023.12.31
In stock
Requires a unique shipping offer
Komondor RH-400
Conical log splitter designed for Japanese compact tractors, also known as rotary axes. No longer need exhausting effort with an ax to cut the logs. But you need a small tractor with a capacity of at least 8HP. Drive with standard 6 ribbed PTO shaft on 540 1/min speed. Please not that PTO shaft is not included in this price. Suitable for firewood, or after unscrewing the top of the worktable, for splitting long logs. Height of the worktable can be adjusted for comfortable work. The conical cleavage spindle's length is 28cm, its diameter is 8cm. As auger bit of the spindle wears out first, that's why we developed it to changable, but of course it is not made of paper, but also heat-treated steel. 1 spare auger bit is provided at no additional cost to. Machine dimensions 80x130x103 cm. Weight of 45 kg. This is our own produced machine, made by Kelet-Agro. Although this machine made for primarily Japanese compact tractors, it can be well operated with large tractors, even with 80HP MTZ Belarus thanks to the height-adjustable legs.
VIDEO
We have received your message, our colleague will contact you soon.

SUBSCRIBE here!
Get to know about our promotions and novelties.
I would like to receive best offers from the Kelet-Agro Co. Ltd. in newsletters. I confirm I am older than 16 years.
You have successfully subscribed to the newsletter!