Wood Chipper (Hydro-Mechanic Driven) with own hydraulic system, Komondor FA-H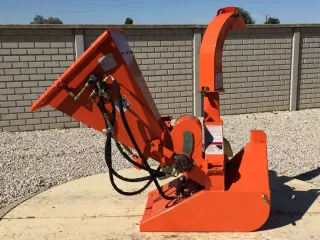 Wood Chipper (Hydro-Mechanic Driven) with own hydraulic system, Komondor FA-H
2.999,00 EUR
(2.361,42 EUR + VAT)
Out of stock
Requires a unique shipping offer
Komondor FA-H
Hydro-mechanic driven wood and loppings chipper, disintegrator. The maximal comminution diameter is 8cm. The machine's minimal performance need is 20HP. The disintegration is made by 4 blades they are fixed on the cardan shaft driven fly wheel. One can disintegrate even some meters long branches. These branches are dragged into the funnel by 1 hydraulic motor, it is adjustable without grades and driven by hydro pump. This adjustable option ensures even with 20HP drive that the whole comminution diameter is exploitable. The hydraulic adjustment of the pushing forward is a precise solution. It makes easy the delicate adjusting the driving tractor and the disintegrator. It is ideal for disintegrate the loppings after the snipping, clearing away after a logging, preparing the wood material for making briquet. Weight of the disintegrator is XXXkg. In reset position the flange around the funnel doesn't hold up the disintegration. In a case of danger the flange can be pushed towards, the machine as the cylinders will stop moving immediately and the disintegration stops as well. If the flange will be pushed on the cylinders will move backwards this way such wood material can be taken away what containes foreign material like nails or clips. Max. capacity 2 m3/hour. It has own hydraulic system, so just need to be attached to the 3 point hitch and simple driven by PTO shaft. This is a big advantage if your tractor does not have auxiliary hidraulic couplings or the tractor's hydraulic is not enough powerful for continuous work.
VIDEO
We have received your message, our colleague will contact you soon.

SUBSCRIBE here!
Get to know about our promotions and novelties.
I would like to receive best offers from the Kelet-Agro Co. Ltd. in newsletters. I confirm I am older than 16 years.
You have successfully subscribed to the newsletter!