Trailer, tipping, 3 directions dumping, for Japanese compact tractors, Komondor SPK-750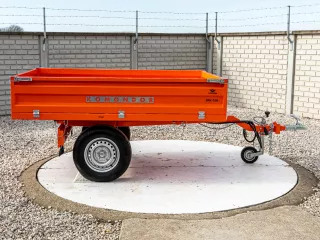 Trailer, tipping, 3 directions dumping, for Japanese compact tractors, Komondor SPK-750
2.306,32 EUR
-25%
1.723,00 EUR
(1.356,69 EUR + VAT)
Duration of the sale:

2023.12.06 - 2023.12.31
In stock
Requires a unique shipping offer
Komondor SPK-750
This 3 directions dumping trailer is designed for Japanese compact tractors. Dimensions: platform size 200x125x34cm, full size 305x132x101cm, gauge 96cm, height of the loading platform is 34cm, tire size 165/80R13. The height of coupling is 40cm, mounted with coupling head for connecting tow balls. Upon request we can deliver with towing hook coupling head for extra charge. On the base platform can be 10 pieces 60x40x40cm M30 standard plastic bins conveniently placed. The platform tilts for 3 sides (left, rigt and back), the side walls and the rear wall fold down, the rear stanchions can be removed. Total weight weight can be maximum 750kg, empty weight 280kg, payload is 470 kg. The trailer is continuously manufactured at our yard. If it is not in stock, please do not hesitate to order, we are preparing it within a couple days for you. Made in Hungary, by us.
VIDEO
We have received your message, our colleague will contact you soon.

SUBSCRIBE here!
Get to know about our promotions and novelties.
I would like to receive best offers from the Kelet-Agro Co. Ltd. in newsletters. I confirm I am older than 16 years.
You have successfully subscribed to the newsletter!