Irrigation trailer for Japanese compact tractors, Komondor SOP-1000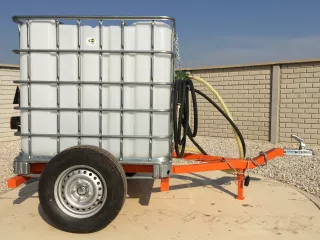 Irrigation trailer for Japanese compact tractors, Komondor SOP-1000
1.576,07 EUR
-24%
1.190,00 EUR
(937,01 EUR + VAT)
Duration of the sale:

2023.12.06 - 2023.12.31
In stock
Requires a unique shipping offer
Komondor SOP-1000
Komondor SOP-1000 type irrigation trailer with PTO driven water pump unit. Tank capacity is 1000 liters. Wheels, wheel hubs and axle are from Knott. Weight: 165 kg. The irrigation trailer is made in Hungary by Kelet-Agro. We produce it on request, delivery is within 2 weeks starting at order.
We have received your message, our colleague will contact you soon.

SUBSCRIBE here!
Get to know about our promotions and novelties.
I would like to receive best offers from the Kelet-Agro Co. Ltd. in newsletters. I confirm I am older than 16 years.
You have successfully subscribed to the newsletter!