Force transporter trailer for Force mini excavators, Komondor FPK-1400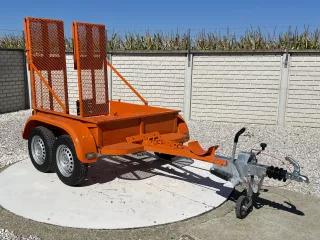 Force transporter trailer for Force mini excavators, Komondor FPK-1400
3.799,00 EUR
(2.991,34 EUR + VAT)
Out of stock
Requires a unique shipping offer
Komondor FPK-1400
Braked, two-axle transport trailer specifically designed for Force mini excavators. With folding ramp. With pre-designed implement attachment points where machine attachment buckets can be easily fastened and transported securely. Made by us, in Hungary, with Knott axles, brakes and tow hitch. Its low unladen weight of 470 kg allows a Force 108, 110, 210 or 310 mini excavator to be towed by even a medium-sized car.
We have received your message, our colleague will contact you soon.

SUBSCRIBE here!
Get to know about our promotions and novelties.
I would like to receive best offers from the Kelet-Agro Co. Ltd. in newsletters. I confirm I am older than 16 years.
You have successfully subscribed to the newsletter!