Extra high side panel kit(wire mesh) for Komondor SPK series trailers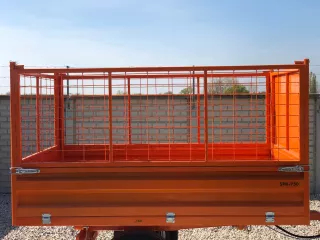 Extra high side panel kit(wire mesh) for Komondor SPK series trailers
693,42 EUR
(546,00 EUR + VAT)
Out of stock
Requires a unique shipping offer
Komondor POM-680/R
This sidewall height extension kit can be used with our three-side tipping trailer type Komondor SPK-750. With its help large quantity of lightweight goods can be loaded to the trailer, it will save you time and effort. It allows tipping for all three sides without removing the height-extensions. It is enough to open the bottom wall, the upper wall will open automatically. Dimensions of the side walls: 132cm x 68cm, front and rear side 206cm x 68cm. Other sizes can be produced upon order. Please request the different types by e-mail.
We have received your message, our colleague will contact you soon.

SUBSCRIBE here!
Get to know about our promotions and novelties.
I would like to receive best offers from the Kelet-Agro Co. Ltd. in newsletters. I confirm I am older than 16 years.
You have successfully subscribed to the newsletter!