Front mounted 3 point hitc for Japanese compact tractors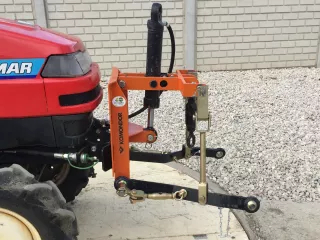 Front mounted 3 point hitc for Japanese compact tractors
533,40 EUR
-22%
416,00 EUR
(327,56 EUR + VAT)
Duration of the sale:

2023.11.29 - 2023.12.31
In stock
Normal delivery
Komondor SFH
It is designed only to carry lightweight implements between working places. With its help it is possible to arrive to a yard with 2 implements, 1-1 on both end of the tractor.
We have received your message, our colleague will contact you soon.

SUBSCRIBE here!
Get to know about our promotions and novelties.
I would like to receive best offers from the Kelet-Agro Co. Ltd. in newsletters. I confirm I am older than 16 years.
You have successfully subscribed to the newsletter!