Front loader for Yanmar KE series Japanese compact tractors, Komondor SHR-100KE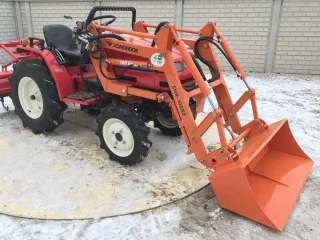 Front loader for Yanmar KE series Japanese compact tractors, Komondor SHR-100KE
3.630,93 EUR
(2.859,00 EUR + VAT)
Out of stock
Requires a unique shipping offer
Komondor SHR-100KE
Komondor SHR-100KE type tractor mounted front loader. It is designed for the comfortable, reliable and popular, enjoy-to-operate Yanmar KE series, for Yanmar KE-2, Yanmar KE-3, Yanmar KE-4 and KE-40 Japanese compact tractors. Own weight is 160kgs. Loading capacity is 100kgs. Maximum liftingh height is 190cm. Width of the bucket is 100cm, capacity is 60 liters. We use durable electrostatic powder painting, all of the pins have grease nipples. The loader can be removed within a couple of minutes. Bucket is mounted with quick coupler and can be replaced other tools, for example snow plow, bale fork, or others upon order.This front end loader is our own product, designed and produced at our yard, in Hungary.The tractor on the pictures is not part of the deal, it is sold separately. If you purchase both the loader and tractor from us, installation of the loader is free of charge. Even if our website shows "out of stock", don't worry, we are working on the next units.
We have received your message, our colleague will contact you soon.

SUBSCRIBE here!
Get to know about our promotions and novelties.
I would like to receive best offers from the Kelet-Agro Co. Ltd. in newsletters. I confirm I am older than 16 years.
You have successfully subscribed to the newsletter!