Two-row potato planter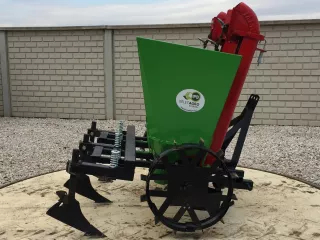 Two-row potato planter
1.270,00 EUR
(1.000,00 EUR + VAT)
In stock
Requires a unique shipping offer
S239
Potato planter is two-row planter mounted on the three point suspension system of tractor. The planter is mounted on the tractor with three point suspension system, CAT 2. During single cycle all the activities concerning with potato planting are performed (it makes furrows, automatically seeds the potatoes and ridges the seeded plants with soil). The potatoes can be planted in the rows 75 cm with the variable distance between planted potatoes in the row (29 cm, 32 cm and 35 cm) while the planting depth amounts from 10 cm to 15 cm. The change of planting distance in row from 29 cm through 32 cm up to 35 cm can be done by changing the diameter of machine wheels.
VIDEO
We have received your message, our colleague will contact you soon.

SUBSCRIBE here!
Get to know about our promotions and novelties.
I would like to receive best offers from the Kelet-Agro Co. Ltd. in newsletters. I confirm I am older than 16 years.
You have successfully subscribed to the newsletter!