Onion planter Yanmar PN2 - 100318, used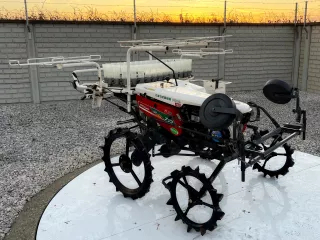 Onion planter Yanmar PN2 - 100318, used
2.603,50 EUR
(2.050,00 EUR + VAT)
Out of stock
Requires a unique shipping offer
PN2 - 100318
Yanmar PN2 used, Japanese, foot-operated, self-propelled onion planter. The machine is suitable for planting chives, it plants in one pass, delivers water to the base of the seedlings and compresses the environment of the bulbs. The planting belt (conveyor) has 32 cups. The operator fills the belt from the trays placed on the support stand while on the move. The power of the Yanmar GS90 four-stroke, forced-air-cooled, pull-in gasoline engine with pull-in cord start is 5 hp. The solid wheel drive is powered by a two-speed gearbox combined with a direction changer. Steering of the planter is made possible by side clutches. The superstructure can be raised hydraulically for changing locations, and can be lowered into the working position for work. The planter has two rows, the row spacing is 25 cm, it is not adjustable. The stem distance can be infinitely adjusted between 10-13 cm. The planter is operational and in normal aesthetic condition.
We have received your message, our colleague will contact you soon.

SUBSCRIBE here!
Get to know about our promotions and novelties.
I would like to receive best offers from the Kelet-Agro Co. Ltd. in newsletters. I confirm I am older than 16 years.
You have successfully subscribed to the newsletter!