Fan Sprayer (Suspended, Capacity of 200 Litres, Axial), Komondor FAP-200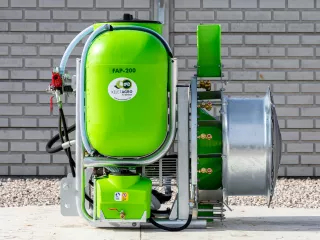 Fan Sprayer (Suspended, Capacity of 200 Litres, Axial), Komondor FAP-200
2.299,00 EUR
(1.810,24 EUR + VAT)
Out of stock
Requires a unique shipping offer
Komondor FAP-200
The design of the vaporiser is with a suspended, axial fan. The vane diameter is 50 cm. Its tank is planned to the low self-weight of the tractors; it is able to receive 200 litres of product. Each side is mounted with 4 pieces of vaporising heads that are adjustable, closable and that prevent dripping individually. It is possible to spray either from the left side, or from the right side or from both sides, moreover, manual spray gun can also be used (the spray gun does not belong to the delivery), the connection point of which is realised. Maximal capacity of the pump is 54 litres per minute under a pressure of 40 bars. Its self-weight is around 154 kg. It is proposed for tractors with a power of more than 12 HP, subject to mounting nose weights, depending on the type in question.
VIDEO
We have received your message, our colleague will contact you soon.

SUBSCRIBE here!
Get to know about our promotions and novelties.
I would like to receive best offers from the Kelet-Agro Co. Ltd. in newsletters. I confirm I am older than 16 years.
You have successfully subscribed to the newsletter!