Snow plow 150cm, vario, independent side by side adjustable, for front hitch and front quick hitch, Komondor SHE-150/F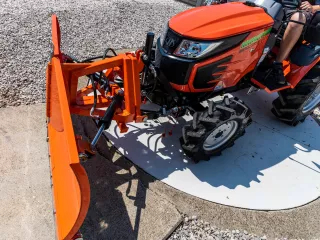 Snow plow 150cm, vario, independent side by side adjustable, for front hitch and front quick hitch, Komondor SHE-150/F
1.670,05 EUR
(1.315,00 EUR + VAT)
Out of stock, but available
Requires a unique shipping offer
Komondor SHE-150/F
150 cm wide, multi-functional snow push plate, snow plow that can be attached to the front hydraulics quick-connect structure. The quick-connect structure, hydraulic pipes and connectors are not included. By installing the quick-release mechanism on the rear tool suspension, the push plate can also be mounted behind the tractor. Angle adjustment is done with a working cylinder, lifting is done by the tractor's tool suspension. It can be used as a snow plow, for opening snow barriers, or e.g. for cleaning narrower sidewalks, in which case the wings form a "forward-pointing wedge". Can be used for snow collection (e.g. collecting snow left between two sliding plate tracks). The wings then form a wedge pointing backwards. The sliding plate is equipped with a rubber cutting edge. The spring tension protects the push plate and the tractor from mechanical damage caused by a possible collision with an obstacle (e.g. protruding manhole cover, curb, etc.). Recommended for machines with a power of around 18-30 HP.
12 months warranty! The packaging size is 140x80x80 cm. Please contact us for shipping quotation.
We have received your message, our colleague will contact you soon.

SUBSCRIBE here!
Get to know about our promotions and novelties.
I would like to receive best offers from the Kelet-Agro Co. Ltd. in newsletters. I confirm I am older than 16 years.
You have successfully subscribed to the newsletter!