Snow plow 140cm, hidraulic lifting, hidraulic angle adjustment, for Japanese compact tractors, Komondor STLRH-140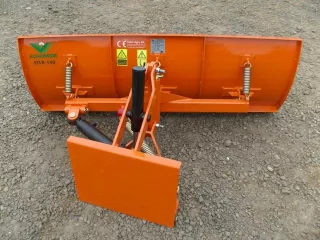 Snow plow 140cm, hidraulic lifting, hidraulic angle adjustment, for Japanese compact tractors, Komondor STLRH-140
1.322,07 EUR
-22%
1.026,00 EUR
(807,87 EUR + VAT)
Duration of the sale:

2023.12.06 - 2023.12.31
In stock
Requires a unique shipping offer
Komondor STLRH-140
Front mounted snow plow with hidraulic lifting and hidraulic angle adjustment. It can be easily mounted to all type of japanese compact tractor, it can be connected to single-circuit hydraulics tractors, because the set includes way selector valve, so it can be selected manually raise / lower, or side displacement. The blade mounted on the bracket with springs that provide safe use. The springs let the blade tilt flexible when it comes up against invisible objects covered by snow like pavement side or traffic island. Angle adjustment in one direction happens under hidraulic pressure, in the other direction the tension spring moves the plow. The kit includes: snow plow with the suspension, way diverter valve, 2 hydraulic quick couplers, 2 x 1500 mm and 2 x 800 mm length hydraulic hoses.
VIDEO
VIDEO
We have received your message, our colleague will contact you soon.

SUBSCRIBE here!
Get to know about our promotions and novelties.
I would like to receive best offers from the Kelet-Agro Co. Ltd. in newsletters. I confirm I am older than 16 years.
You have successfully subscribed to the newsletter!