Snow plow 140-200cm, for forklift trucks, Komondor STLR-140-200/targ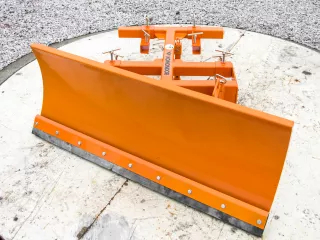 Snow plow 140-200cm, for forklift trucks, Komondor STLR-140-200/targ
934,72 EUR
-22%
728,00 EUR
(573,23 EUR + VAT)
Duration of the sale:

2023.12.06 - 2023.12.31
Out of stock, but available
Requires a unique shipping offer
Komondor STLR-140/targ
Snow plough for forklifts. Its width is 140cm, Easy to attach and easy to remove. Use of snow chain on the driven wheels is recommended. The indicated price belongs to the 140cm size snow blade. Price of extension is 34Euro net / 10cm, maximum width is 200cm. We need size of the forks, to produce the proper mounting frame. Weight of the snow blade is 85-105kg depends on width.
We have received your message, our colleague will contact you soon.

SUBSCRIBE here!
Get to know about our promotions and novelties.
I would like to receive best offers from the Kelet-Agro Co. Ltd. in newsletters. I confirm I am older than 16 years.
You have successfully subscribed to the newsletter!