Finishing mower 150 cm, with 4 wheels and 3 blades, for Japanese compact tractors, DM150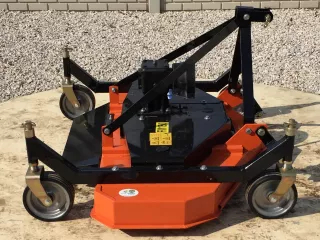 Finishing mower 150 cm, with 4 wheels and 3 blades, for Japanese compact tractors, DM150
1.285,24 EUR
(1.012,00 EUR + VAT)
Out of stock, but available
Requires a unique shipping offer
DM150 6.13.150
Rotary lawn mower with 3 blades. It's operating width is 150cm, it's unladen weight is 195kg. Even the small, thus around 15HP performance having tractors can drive it. The gentle connection between the turf and the lawnmower is assured by the 4 gum wheels having construction. The selfadjusting wheels ensure the easy maneuverability, the adjustable construction allows adjusting the height of the trimming. The trimming itself is made by 3 double blades. They are spinning next to each other. These 3 double blades are interconnected by a fan belt. The advantage of this kind of connection manifests in the case of collision when the connection defend the machine from the damage with a slip. The lawnmower is connecting to the tractor with 3 point rear hitch.
VIDEO
We have received your message, our colleague will contact you soon.

SUBSCRIBE here!
Get to know about our promotions and novelties.
I would like to receive best offers from the Kelet-Agro Co. Ltd. in newsletters. I confirm I am older than 16 years.
You have successfully subscribed to the newsletter!