Finishing mower 100 cm, for Japanese compact tractors, Komondor SFNY-100.4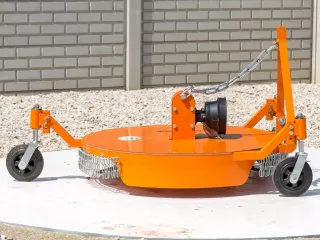 Finishing mower 100 cm, for Japanese compact tractors, Komondor SFNY-100.4
1.201,42 EUR
(946,00 EUR + VAT)
Out of stock, but available
Requires a unique shipping offer
Komondor SFNY-100.4
The smallest, 10HP tractor is sufficient. Working width of the lawn mower is 100cm. Rear discharge. 1-1 blades are found on both side of the blade holder. This mower is our own product. Robust implement, not only for hobby works.
VIDEO
VIDEO2
VIDEO3
VIDEO4
We have received your message, our colleague will contact you soon.

SUBSCRIBE here!
Get to know about our promotions and novelties.
I would like to receive best offers from the Kelet-Agro Co. Ltd. in newsletters. I confirm I am older than 16 years.
You have successfully subscribed to the newsletter!