Disc mower 220 cm, Vicon Extra 122, used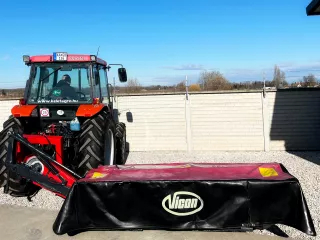 Disc mower 220 cm, Vicon Extra 122, used
4.443,73 EUR
(3.499,00 EUR + VAT)
In stock
Requires a unique shipping offer
Vicon Extra 122 - C327
The Vicon Extra 122 disc mower is a tool for cutting fibrous fodder grown in a large area. The disc mower is a tool for the so-called broad weeding. This cutting method creates a wide, non-packed row, which means that the fiber forage dries faster and can be baled sooner. The working width of the mower is 220 cm. Power requirement is at least 60 hp. Its suspension system is Cat2 standard. Its drive requires a PTO speed of 540 1/min. The cutting table has 6 rotors, equipped with 3 oscillating knives per rotor. Structure of the drive chain: freewheel V-belt drive with 4 V-belts, gear driven main gear and gear transmission for driving the rotors. The cutting table is moved between the transport position and the working position using a hydraulic cylinder. Spring-loaded ground tracking suspension of the cutting table, equipped with a spring-loaded safety element (collision protection). The weight of the mower is 455 kg. The mower is used, serviced and ready to use. The V-belts are in good condition, the rotor bearings are new, the blades are new, the oils in the engines have been changed, a complete painting has been done, the tarpaulin is used but in good condition.
We have received your message, our colleague will contact you soon.

SUBSCRIBE here!
Get to know about our promotions and novelties.
I would like to receive best offers from the Kelet-Agro Co. Ltd. in newsletters. I confirm I am older than 16 years.
You have successfully subscribed to the newsletter!