Universal towing device for round baler Komondor RKB-850/870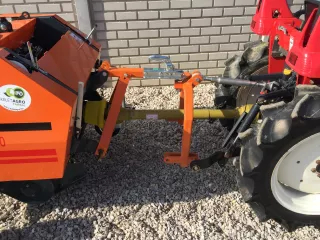 Universal towing device for round baler Komondor RKB-850/870
265,43 EUR
(209,00 EUR + VAT)
Out of stock, but available
Normal delivery
Komondor SBV-800
Universal towbar for the RKB-850 / RKB-870 balers we sell. The set includes a frame that can be mounted on the suspension structure we sell (3-point rear tool suspension set, box, for small tractors) and a frame with a coupling head that can be mounted on the baler. The kit allows the RKB-850/870 balers to be converted to be towed. When towing, the general regulations for balers must be observed: small radius turns must be avoided to prevent the PTO shaft from jamming. Aim for a turning radius of at least 2.5-3m. It is important that for tractors with a drawbar longer than 500 mm, the turning radius increases! If your tractor has a longer drawbar, please contact us before ordering.
VIDEO
We have received your message, our colleague will contact you soon.

SUBSCRIBE here!
Get to know about our promotions and novelties.
I would like to receive best offers from the Kelet-Agro Co. Ltd. in newsletters. I confirm I am older than 16 years.
You have successfully subscribed to the newsletter!