Round baler for Japanese compact tractors, 70x100cm, Komondor RKB-1070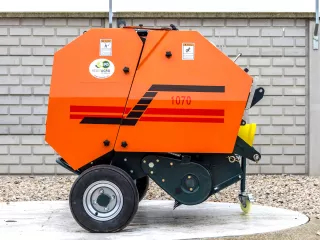 Round baler for Japanese compact tractors, 70x100cm, Komondor RKB-1070
5.749,00 EUR
-22%
4.483,10 EUR
(3.530,00 EUR + VAT)
Duration of the sale:

2023.11.01 - 2023.12.31
In stock
Requires a unique shipping offer
Komondor RKB-1070
Round baler for compact tractors 15-30PS.
It can produce diameter 70cm, 100cm long bales. Pick up width is 100cm.
The baler has own hydraulic system for rejecting bales, like hydraulic pump, distributor, hydraulic cylinder, so no need to attach it to the tractor's hydraulic system. Capacity is 80-120 bales per hours. Weight of the mini round baler is 536kg. Working speed is 2-5km/h. Proper PTO speed is 540RPM.
This is a 3 point hitch attached baler, so in case your tractor is leightweight, we recommend you to use our trailer hitch (option). This way even the smallest tractors are able to work with it well. Length is 144cm, width 130cm, height is 110cm.
Please let us know you postal code, we will get you reasonable shipping cost EU wide.
Please see the picture before the last that shows the transport way in its original steel crate. For additional 60 Euro + VAT we can install extra corner protection and plywood sheet cover (last picture).
Please note that we can't cover any damages can happen during transport. The transported balers are not ready to work, need to prepare them.
We can cover warranty cases only after we received invoice of the shop where the final preparation had been done. If you can pick up the baler at our yard, ready mounted to work, please be prepared to pay additional 80 Euro + VAT.
Videó - a bálázó Shibaura P17F kistraktorral
Videó - a bálázó Yanmar F175D kistraktorral
Videó - a bálázó Deutz-Fahr 3046E kistraktorral
Creative offer! - We offer free parts from our stock chosen by you, in value of 150 Euro, if you send us a good quality video about the working baler you purchased from us in good quality (HD, 4K) in proper length (min. 2 minutes)
We have received your message, our colleague will contact you soon.

SUBSCRIBE here!
Get to know about our promotions and novelties.
I would like to receive best offers from the Kelet-Agro Co. Ltd. in newsletters. I confirm I am older than 16 years.
You have successfully subscribed to the newsletter!