Bale wrapper for Komondor RKB850, RKB870 and RKB1070 round balers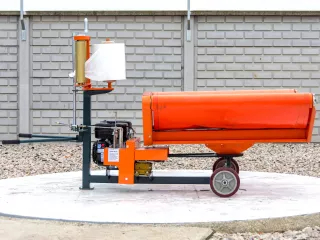 Bale wrapper for Komondor RKB850, RKB870 and RKB1070 round balers
2.849,00 EUR
(2.243,31 EUR + VAT)
Out of stock, but available
Requires a unique shipping offer
Komondor 37933
Roll bale wrapper for 50-60-70cm diameter, max 100cm long roll bales. It is equipped with a 6HP, 4-stroke, air-cooled gasoline engine. It can be used for packing both dry and green fodder bales. The motor drives the packing table around its vertical axis through a detachable drive belt drive and drive housing. At the same time, the rotary cylinders on the table are actuated to rotate the bale around its longitudinal axis. As a result of the two direction rotations, foil is protected against the entire surface of the bale. The number of threads of the film can be changed. In the lower hole position there are 11, in the center 19, and in the upper position 30 threads are made. When the preset run is reached, the mechanical switch mechanism releases the tensioner drive belt and the wrapping stops. The bale is moved manually. Size of the wrapper is 170x90x125cm. Weight 135 kg. Please contact us for transport quotation.
We have received your message, our colleague will contact you soon.

SUBSCRIBE here!
Get to know about our promotions and novelties.
I would like to receive best offers from the Kelet-Agro Co. Ltd. in newsletters. I confirm I am older than 16 years.
You have successfully subscribed to the newsletter!