Flail mower 125 cm, with hammers, with openable rear door, for Japanese compact tractors, EFGC 125D, SPECIAL OFFER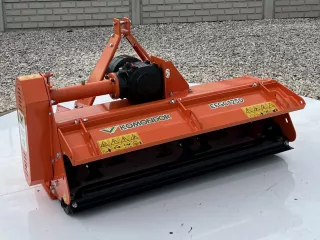 Flail mower 125 cm, with hammers, with openable rear door, for Japanese compact tractors, EFGC 125D, SPECIAL OFFER
1.315,00 EUR
(1.035,43 EUR + VAT)
In stock
Requires a unique shipping offer
EFGC125D 3.25.125
In national terms, the best quality product of the category, guaranteed at the best price!
Horizontal axis, oscillating crushing hammer stalk crushing-mulching-mowing machine. The ground tracking and cutting height are ensured by the sliding feet on both sides and the steel cylinder with adjustable mounting on bearings.
The openable back wall enables higher travel speed, without clogging the rotor, even in neglected, unkempt areas.
Working width 125cm, total width 135cm. There is a V-belt connection between the gear unit and the rotor, which ensures a damage-free stop by sliding when hitting an obstacle. The working speed is 2-5 km/h. It requires a 540-rpm drive.
Minimum machine requirement 18 HP. Its reinforced gear unit has a freewheel design, so it can be driven with a simple, standard cardan shaft. The gear unit is not located in the middle, so the housing protrudes to the right compared to the longitudinal axis 77 cm, in cutting width 73 cm.
The weight of the machine is 230 kg, the number of crushing hammers on the shaft is 20 pieces, the weight is between 700-800 grams/piece.
The stem crusher is suitable for crushing the cuttings after pruning fruit trees and fruit trees. However, the diameter of the cuttings should not exceed 2-3 cm, and it should not be collected in knots. It is also better for the machine if it receives it evenly, in full working width.
VIDEO
VIDEO
Product delivery Hungary within the area HUF 36,800 + VAT. Packaging size 145 x 80cm x 70cm. Its shipping weight is 250 kg. In the case of home delivery, we cannot operate it due to the packaging. In this case, we will pack an installation guide illustrated with photos. In case of on-site collection, after unpacking, this can be done, the cost is HUF 5,000 + VAT.
The machine can be tendered for and can be found in the MVH machine catalog under the following serial number: 2533-5024
12 months warranty!
VIDEO
We have received your message, our colleague will contact you soon.

SUBSCRIBE here!
Get to know about our promotions and novelties.
I would like to receive best offers from the Kelet-Agro Co. Ltd. in newsletters. I confirm I am older than 16 years.
You have successfully subscribed to the newsletter!