Rotary tiller 280cm, foldable, Niplo WBS2800B, used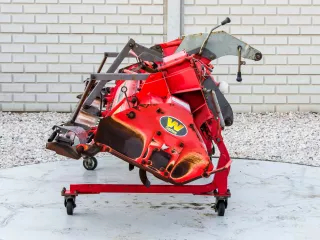 Rotary tiller 280cm, foldable, Niplo WBS2800B, used
1.879,60 EUR
(1.480,00 EUR + VAT)
In stock
Requires a unique shipping offer
tm h WBS2800B
Foldable rotary tiller. Made in Japan. Working width is 280cm, transport width is 170cm. In working condition. For 50-80HP tractors. Folding manually with help of pneumatic cylinders. Ideal for tilling in orchards.
We have received your message, our colleague will contact you soon.

SUBSCRIBE here!
Get to know about our promotions and novelties.
I would like to receive best offers from the Kelet-Agro Co. Ltd. in newsletters. I confirm I am older than 16 years.
You have successfully subscribed to the newsletter!